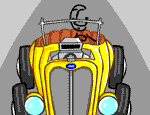 1956 FORD TOTAL PRODUCTION 1,408,478. RANKED 2ND IN SALES. THIS WAS THE YEAR FORD TRIED SELLING SAFETY AS A WAY TO SELL CARS. THEY TOUTED SEAT BELTS, A "DEEP DISH" STEERING WHEEL, 'SAFETY-GUARD' DOOR' LATCHES, PADDED VISORS AND DASHES. IT DIDN'T WORK. NOBODY CARED. STILL, FORD HAD A GOOD YEAR IN '56, TRAILING ARCH-RIVAL CHEVROLET BY ABOUT 150,000 UNITS.
1960 STUDEBAKER TOTAL PRODUCTION 120,465. RANKED 11TH IN SALES. STUDEBAKER SALES ROSE SHARPLY IN 1959 WHEN IT'S LITTLE LARK WAS INTRODUCED. BUT WITH THE BIG COMPANIES COMING OUT WITH THEIR OWN COMPACTS IN 1960, THE COMPETITION BECAME MUCH STIFFER. FOR INSTANCE, EVEN THOUGH THE LARK SOLD WELL IN '60, FORD SOLD MORE THAN 400,000 COPIES OF IT'S NEW FALCON THAT SAME YEAR.
Do you have a car that you'd like to see here? Let us know! russieross@yahoo.com
1957 MERCURY TOTAL PRODUCTION 286, 163. RANKED 8th IN SALES. MERCURY'S FLAGSHIP CAR WAS THE 'TURNPIKE CRUISER', WHICH FEATURED GADGETS GALORE. IT HAD A RETRACTABLE, REVERSE SLANTED REAR WINDOW. YOU HAD 49 PRESET BUTTONS COURTESY OF MERCURY'S 'SEAT-O-MATIC'. THE CRUISER DIDN'T SELL WELL, BUT IT'S LESS GADGETIZED CARS HELPED THE LINE TO A RESPECTABLE NUMBER 8 POSITION IN SALES.
1959 EDSEL. TOTAL PRODUCTION 44, 891. RANKED 14TH IN SALES. THE 59 EDSEL WAS, IN MY OPINION, A CAR THAT WAS NEVER EXPECTED TO SELL WELL. WHEN THE 58 MODELS CAME OUT, ROBERT MCNAMARA ASCENDED TO THE PRESIDENCY OF FORD MOTOR COMPANY. HE NEVER WANTED THE EDSEL LINE, AND IN FACT, PLANNED TO PHASE IT OUT EVEN AS IT WAS BEING INTRODUCED. FOR 59, HE TOOK THE FORD BODYSHELL, RE-SKINNED IT AS AN EDSEL, AND SENT THE CAR OUT TO DO BATTLE WITH THE BIG 3. IT FAILED AS MCNAMARA KNEW IT WOULD. FOR THE NEXT MODEL YEAR, HE COULD, AND DID, ABOLISH IT COMPLETELY.
Hey! Its time for CARS & COMMERCIALS! This is only the first page; stand by...theres more to come!
1956 PLYMOUTH. TOTAL PRODUCTION 552,557. RANKED 4th IN SALES. THATS RIGHT 4th! THE 'BIG THREE' WAS NOW CHEVY, FORD AND BUICK, EVER SINCE PYYMOUTH LOST IT'S TRADITIONAL 3rd PLACE STANDING TO BUICK IN 1955 WHEN IT FELL TO 6th PLACE. BUT THINGS WERE LOOKING UP. SALES WERE INCREASING. BUT PLYMOUTH WAS STILL SELLING LESS THAN HALF THAT OF CHEVY AND FORD.
1956 PLYMOUTH