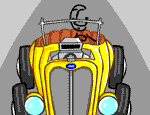 1951 HENRY J. TOTAL PRODUCTION 81,942. RANKED 17th IN SALES. IN AN ATTEMPT TO BOOST SALES AT KAISER-FRAZER CORPORATION, MANAGEMENT WANTED AN ALL NEW CAR ADDED TO THEIR LINE. THUS CAME THE HENRY J, POWERED BY A WILLYS 4 CYLINDER ENGINE. IT WAS PLAIN; PROBABLY TOO PLAIN. NO GLOVE BOX, NO TRUNK LID. MOST BUYERS WANTED THESE ITEMS AND PAID AN EXTRA $200 FOR A CHEVY OR FORD. THE CAR LASTED JUST 3 MODEL YEARS BEFORE BEING DISCONTINUED.
1954 LINCOLN. TOTAL PRODUCTION 36,993. RANKED 15th IN SALES. THE LINCOLN NEVER CAME CLOSE TO BEATING IT'S MAIN RIVAL, CADILLAC IN THE FIFTIES. LINCOLN'S HYDRAMATIC TRANSMISSION WAS ACTUALLY BOUGHT FROM GENERAL MOTORS! IT'S ENGINE WAS ONE OF THE INDUSTRY'S BEST, HOWEVER. LOOKING A BIT TOO MUCH LIKE A MERCURY, LINCOLN WAS COMPLETELY RESTYLED THE NEXT YEAR.
Let us know what you think!
1956 CHRYSLER. TOTAL PRODUCTION 128,322 RANKED 10th IN SALES. CHRYSLER HAD A GOOD YEAR IN '56, NEARLY BEATING CADILLAC AND LEAVING IT'S OTHER RIVAL, LINCOLN, FAR BEHIND. CLEAN YET AGGRESSIVE STYLING BY VIRGIL EXNER GAVE THE '56 CHRYSLER AN ULTRA MODERN LOOK. THIS, PLUS OUTSTANDING PERFORMANCE, MADE MANY A MAN A CHRYSLER OWNER.
1950 MERCURY. TOTAL PRODUCTION 293,658. RANKED 9th IN SALES. THE '50 MERC WAS A GREAT VALUE. STYLED LIKE A LINCOLN BUT COSTING MUCH LESS, BUYERS COULDN'T GET ENOUGH OF THIS CAR. THE FOLLOWING YEAR WAS EVEN BETTER. IT'S V8 WAS 12% LARGER THAN FORD'S AND DELIVERED 15 MORE HORSEPOWER. IT WAS, IN JUST A FEW SHORT YEARS, A HOT RODDER'S DELIGHT.